Cultura e Turismo
Last update 3 January 2021

Sala Monferrato riconosciuta Patrimonio UNESCO: PAESAGGI VITIVINICOLI LANGHE, ROERO E MONFERRATO: il monferrato degli Infernot dal 2014
Sala Monferrato has been included in the UNESCO worldwide heritage as part of the Vineyard Landscapes of Langhe, Roero, and Monferrato and The Monferrato of the "Infernot cellars" since 2014.
The above mentioned vineyard landscape and UNESCO site stretches through twelve gently rolling hills covered with vineyards as far as the eye can see, dotted with small villages and prestigious medieval castles. Here wine farming has been pivotal to the economy and the social life of the entire region for centuries.
The site is made up of six areas known as "components" located within the boundaries of the provinces of Alessandria, Asti and Cuneo and encompassing twenty-nine municipalities for a total of 10.789 acres. Geographically speaking, three of the components are parts of Langhe, the next two are in the high Monferrato and one more in the lower Monferrato. As a whole, the selected areas stand for the outstanding visual quality of Piedmontese vineyard landscape and for their deeply- rooted, ever-sparkling wine culture.
The components have been selected based on the matching between each area and its own wine production, to their relevance on both a national and international scale, to them being thorough representatives of the wine production chain ( wine farming, production, storage and distribution), and their architecture ( small cities, villages, places of interests, castles, churches, street networks).
So, Components n 1.3.4.5 are key representatives of the four most relevant Piedmontese productive systems: each and every one based on a special relationship between their vines, their ecosystem (climate and soil) , vine growing and production techniques.
Each system results in extremely high quality wine, protected by a special Registered Designation Of Origin label ( DOC in Italian) for brand names such as: Barolo, Barbaresco, Barbera D'Asti, Asti Spumante.
The geographical site is made up of a rich and varied patchwork of wine farms, wine growers and producers, wine industries, wine growers' cooperatives, wineries and wine shops. Some of them are outstanding symbols of the history and the development of national and international wine making. To name one, Grinzane Cavour Castle in Component 2.
Special hand carved cellars called "Infernot" complete the picture. They are made up of the local brittle stones called "Pietre da cantoni" and typical of component 6. These small cellars were usually part of private houses and especially designed to naturally preserve the most valuable wines.
A 76.000 acre buffer zone encompasses the six components and includes more than 100 municipalities. It ensures a better protection of each site and a steady transition between one site and the next. The whole site and its components all benefit from a complex legal protection grid on a local and national scale.
A special committee for the vineyard Landscape of Langhe Roero and Monferrato has been appointed in January 2011 and is in charge of all the joint activities of upgrading, development, promotion and awareness-raising.
DOPO L'UNESCO AGISCO ( After Unesco, I do act ) is the latest project by the Piedmontese Council for Culture and Tourism whose main goal is to ameliorate the site after becoming part of the UNESCO World Heritage. The committee has then selected some of the neighboring municipalities to raise even more awareness in preserving these extraordinary places. Their agricultural landscape, their well preserved and visitable castles and their valuable wine territories have been the main selection criteria.
This new initiative is addressed to regular dwellers and on-and-off inhabitants. It involves all those who live here, the mayors, the schools, the companies and the committees in being part of a big jigsaw puzzle.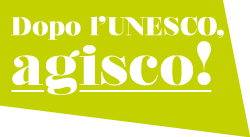 ---